Baby Needs Social Interactions with Other People
Among teaching your baby how to crawl, another important lesson is that of social interactions with people. Early in life your baby will learn to recognize their mother and father or other primary caregivers. This experience is a wonderful way to bond and develop your child's emotional development. But what about other people who are less familiar?
Unfortunately there are certain ages that a baby will naturally feel separation anxiety.  This part of normal infant development can be tough on the parents. Ways to help your child are simple and will help ease their fears.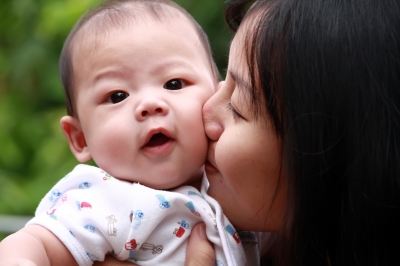 While playing with your baby, and if she is in a good mood, try a game. Take a hat and put it on. Show your baby yourself in "disguise" then reveal what she recognizes you as. This can teach baby that others outside the home are not scary.