Although the reality TV star isn't exactly Hollywood's most celebrated sweetheart, she has been forced to withstand some particularly hateful fat jokes since she began to show "" an unfair crux many curvier mothers must deal with themselves as their pregnancy evolves.
"I think it's a little bully-ish to call a pregnant woman fat. I mean, what do you expect?" she said to Jay Leno on a recent taping of The Tonight Show.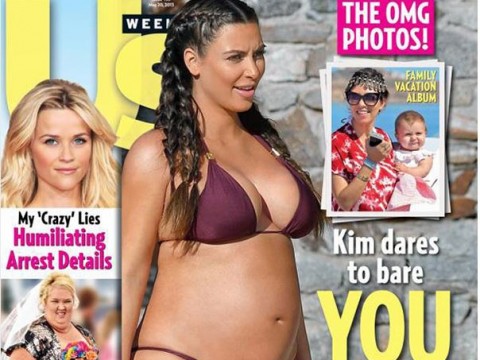 While Kim is undoubtedly embracing her newfound mommy curves as she transitions into her third trimester, it's safe to safe her confidence was a bit burned to begin with in terms of body image. Kardashian went great deal of her pregnancy resisting the typical maternity garb, opting for larger sizes in regular clothing "" a typically big "no-no" for fashion-savvy mothers.
Most recently, the TV star received a substantial amount of criticism for her form-fitting floral Givenchy gown she wore to the Met Ball. But by the looks of it, it seems the bump-embracing mom could care less.
However, the US Weekly cover weaves a different tale, as the celeb is seen sporting super-slim arms and toned legs. Although a high-profile celebrity like Kim is will most always amass haters, combatting the hurtful jokes "" and embracing a beautiful pregnancy "" can always be accomplished with confidence.