Kim Kardashian Weight Gain? Kim Quiets Body Bashers with Teeny Bikini
There's been no shortage of heat surrounding Kim Kardashian's weight gain and ever-expanding baby bump in recent months.
Although the famed reality TV star, 32, has acquired much of her celebrity from those famously bodacious curves and sultry sex appeal, it's her protruding tummy that has splashed the mommy-to-be on more than a few recent scathing tabloid headlines.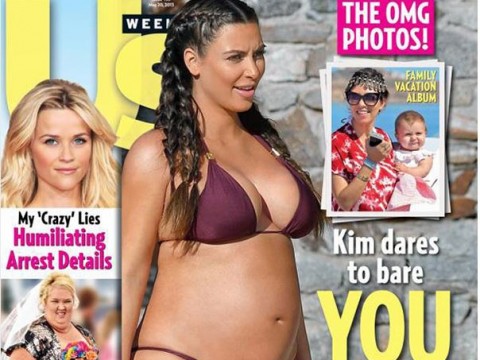 But after months of maternity-wear mishaps and bearing the brunt of hurtful fat jokes, Kim K is finally deciding to embrace her bump "" in the form of a teeny-weenie string bikini.
Kim Kardashian Weight Gain? Hardly!
Silencing her hordes of haters this past week, Kim Kardashian weight gain rumors were put to rest when she appeared scantily-clad on the cover of US Weekly in a tiny, maroon bikini while vacationing with the rest of the Kardashian pack on the island of Mykonos in Greece.
"Rocking a bikini is a big step for a Kardashian, who has been bullied for her weight ever since announcing in December that she and boyfriend Kanye West would welcome their first child in July," reported the popular tabloid.
It's the first time since Kim Kardashian's pregnancy announcement that she's appeared in a bikini or a particularly form-fitting garment.