Hopefully you had a fabulous mother's day "" now it's time to repay the day to the dads. With father's day right around the corner, it's time to get moving on those gift ideas. Looking for the right way to help your child say, "I love you?"  Make gifting a fun activity for all ages with one of these fathers day gift ideas from kids.
Fathers Day Gift Ideas From the 0-12-Month Infant
Your little one likely doesn't have too much skill in the arts and crafts department just yet, but he/she sure can take a cute picture. Take a day at the park to play photographer with some dad-inspired shots. You can find letters at nearly any craft store "" get the letters "D" and "A" to incorporate in your shots. Frame your favorite and gift it to dad from your little one "" it's perfect for the office.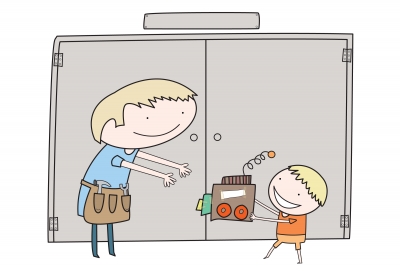 Fathers Day Gift Ideas From the Toddler
Flowers and plants aren't just for moms "" grab up an inexpensive flower pot, some acrylic paint, and your little one. First paint the pot with the acrylic paint in the color of your choosing. Once it has dried, paint your toddler's hands in a contrasting color, then press them onto the freshly painted pot to leave colorful hand prints. Once you have finished, spray on a clear sealer to set the paint. If flowers aren't quite his thing, try a "manly" plant, such as a cactus or succulent.