Even though she's a mom, she's still a teen and most teens want to have stylish, trendy things. A bag that doesn't stand out as a diaper bag or is a little trendier than the typical bag would be appreciated and help her feel more like a teen.
4. Sling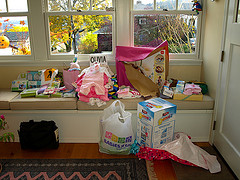 Baby slings aren't just for moms practicing Attachment Parenting techniques.  A baby sling is a key piece of equipment for any new mom.  Newborn babies love and need to be held, which leaves no hands for anything else.  Placing baby in a sling frees up mom's arms so that she can get more done while taking care of her child.
There are many different baby slings out there.  The Baby Bjorn is a classic and will work for babies up to 30 or 35 lbs.  It feels very secure, but can get heavy as baby gets bigger.  My personal favorite was the Moby wrap; it takes a little practice but is very light weight and super comfy for baby.
5. Gift certificates to baby store
Another great idea is a gift certificate to your local baby store.  That way she can get what she needs as she needs it.  It also gives her the ability to get her baby a special treat, like a new toy or outfit, that she might not otherwise be able to afford.
Do you have any other ideas?  Leave your suggestions for the best baby shower gifts for a teen mom-to-be in the comments below!