Teen Mothers Love Gifts Too
While it's still considered taboo in some circles to be talking about the best baby shower gifts for a teen mom-to be, teen moms need just as many supplies as an adult.  In many cases, teen moms need even more, simply because they haven't yet finished school or started working. Here is my list of the top five best baby shower gifts for teen moms.
1. Time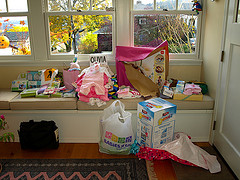 This might be the most important gift of all.  Teen moms need time to go to school, finish homework or study, and to hang out with friends.  Making arrangements to babysit so the new mom can have a break will be greatly appreciated.
If you aren't able to watch the baby yourself, you could offer to hire someone you trust or even make a payment to the daycare center that the mom has selected.
2. The Essentials
Even though it seems boring to buy diapers, wipes, diaper cream and formula/bottles, these are essentials that mom will definitely need while caring for her baby.  For the mom who isn't working or who is only earning a minimum wage salary, the cost of these basics can really add up.
Before stocking up, you might want to find out whether she plans to breastfeed or bottle feed, and if she will use disposable diapers or cloth diapers.  That way you can be supportive of how she wants to parent and still get what she will need.
3. Stylish diaper bag