You might not be too keen on going sleeveless if you've gained some weight during pregnancy but you can still show some skin with sheer sleeves. Sheer sleeves are one of the hottest trends of the season and can add a sexy and feminine touch to any ensemble. Celebrity moms-to-be including Kim Kardashian and Jamie-Lynn Sigler have been spotted in sheer-sleeved dresses this year, and you can find a number of maternity pieces with sheer sleeves and sheer accents to update your look!
Here are a few ideas for wearing sheer sleeves, inspired by celebrity moms: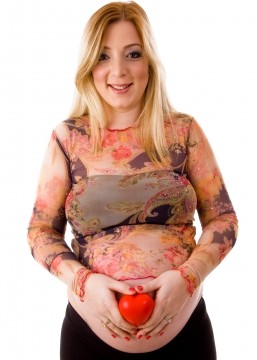 Long Sheer Sleeves Gown
Halle Berry was spotted on the red carpet in what appears to be a cutaway dress with a sheer overlay around the top. The sheer sleeves were accented with an embroidery design and helped to create a dramatic and glamorous ensemble for the celebrity-studded event. Jamie-Lynn Sigler is another star who's been wowing the crowds with the sheer sleeve trend. Her recent red carpet appearance in a long sparkly black dress with sheer sleeves accentuated her curves and baby bump, creating a trendy and glamorous ensemble.
How to wear it: When you're getting dressed for a special occasion, look for a tiered or ruffled dress that's fitted around the waistline and has a sheer overlay top. Embroidered or metallic thread accents around the sleeves and bustline can turn up the glam factor and really turn some heads!