AAP Releases New Report
A new policy statement from the American Academy of Pediatrics (AAP)
reports that despite the appeal of media screens such as TVs, tablets and others
to entertain and educate toddlers and children, play time is more beneficial to
them.
The statement follows a survey conducted by AAP that found that 90 percent of parents said their children under the age of 2 watch some form of electronic media. The survey showed that on average, children this age watch televised programs one to two hours per day.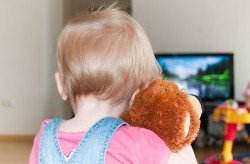 However, the report found that even though many video programs for infants and toddlers are marketed to parents as "educational," evidence does not support this. Studies show that lessons can be gleaned from TV programs once children understand the content and context of the show or video, which happens most often in children over the age of 2.