While some budgets allow for purchasing $200 maternity jeans, most moms-to-be are looking for stylish maternity duds that aren't going to break the bank "" after all, you need them for only a few months. The good news is many retailers offer great styles at affordable prices.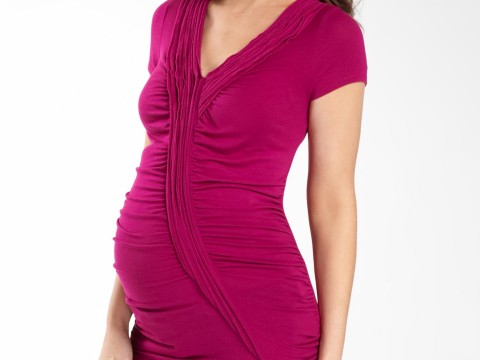 With a variety of styles from casual to dressy, JC Penney has a nice selection of budget-friendly maternity clothes. T-shirts start as low as $10 while the average blouse goes for around $20. Jeans can be had for around $30, and dresses start as low as $14 and average out around $20. Even dressier dresses stay under $50 with $44 as the highest price we found.
JC Penney also offers plus sizes up to 3-XL, free shipping for orders above $50 and free shipping to its retail locations.
Known for stylish, budget-friendly clothes, Old Navy's maternity offerings hold true to that same philosophy. With a variety of casual and business-casual looks, Old Navy maternity sizes go up to size 18 in pants and XXL in shirts. Maternity jeans can be found for as much as $34.94, or marked down to as low as $20.
If you're buying online, OldNavy.com offers free shipping on orders more than $50 and flat $7 shipping for orders under that. Returns can be made only by mail, but exchanges are free.
While you might think a store that specializes in maternity wear "" from bras to dresses to swimsuits "" would offer items at a higher price tag, Motherhood Maternity offers various pieces at economical prices. Casual shirts average $20 while dressier blouses are in the $30 range. Jeans average $40, and dresses top out at $40 on Motherhood.com. Motherhood Maternity also carries a selection of plus-sized maternity clothes that go up to 3-XL.