Are you going to let a little hospital stay cramp your style? No way!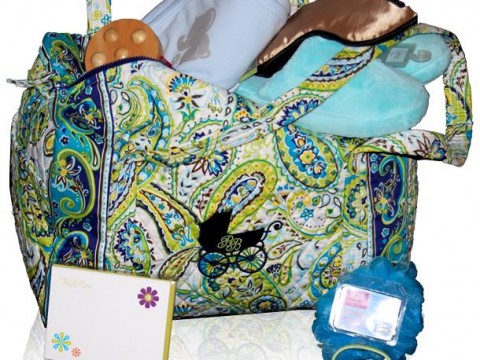 Yes, fashionable comfort exists for the main event of your pregnancy. Make your delivery day even more exciting by packing your hospital bag full of practical and indulgent items. Choose a bag that is roomy and bright to accommodate your essentials.
For you
A fabulous headband. This is both practical/functional and chic. You'll want your hair out of your face while in labor, plus it'll look cute in photos.
Lip gloss. Glistening lips are far better than dry, parched ones.Cute socks. Hospitals can be cold. Choose a cool print or a bright hue in a knee-high style.
A fun robe. This will provide a little warmth, coverage and distraction from a drab hospital gown.
A labor and delivery gown. These can be found all over the web.
Chic & comfy PJs. Once your baby has arrived, ditch the hospital gown and enjoy your own style.
A pretty nursing bra. Yes, this exists. You'll appreciate the beautiful support.
Pampering toiletries. The hospital is not a luxury resort, although some of them have created beautiful birthing centers and suites. Indulgent little toiletries might make your stay a bit more comfortable.
A flattering going home outfit. Think effortless yet attractive; photos will likely be snapped on this special homecoming.
For baby
An adorable going home outfit. Remember: photos! Your new little guy or gal deserves something special for their big debut.
Hat and booties. These will maintain a newborn's internal temperature and look incredibly cute.
Cozy blankie. Keep baby warm and snuggly. Maybe splurge on a special monogrammed blanket.
A new stuffed animal friend. Consider sleeping with the stuffed animal to make it smells like you, which will comfort your newborn.