Whether you opt for new or used, the search for the right crib is important since your baby's safety is at the heart of this purchase. Cribs are sadly responsible for a majority of baby deaths.
Crib Safety
As of June 28, 2011, drop-side rail cribs are illegal to manufacture or sell. You can only buy new cribs with fixed sides. If you plan to buy a gently used crib, check to make sure that it's up-to-date with the new safety standards enacted this year. Avoid drop-down cribs if you possibly can.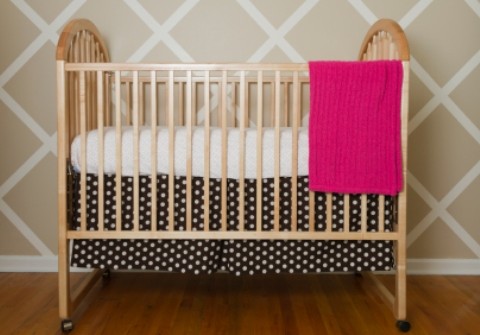 The American Academy of Pediatrics recommends these additional crib shopping tips:
All crib slats should to be less than 2 and 3/8 inches (6 centimeters) apart. Widely spaced slats can be dangerous since there's a possibility of the baby's head getting trapped.
Before buying a used crib, check for any cracked or peeling paint. All surfaces of the crib should to be covered with lead-free paint.
Avoid buying a crib with decorative cutouts. Cutouts pose a risk as your child's head might be stuck in them.
When buying a crib with corner posts, make sure they're very tall (over 41 centimeters, or 16 inches) or flush with the top of the headboard and footboard.
Once you've purchased a crib, make sure the mattress fits snugly. There should be no gaps that might accidentally trap your baby's arms, legs or body. If you can fit more than two of your fingers in between the mattress and the side of the crib, you need to find another mattress.
Crib Style
Standard cribs don't have any fancy bells and whistles, but they are often quite affordable, sometimes even under $200.
If you are willing to spend more, however, consider a convertible crib. They save money in the long run because they convert from a standard crib to a toddler bed, and some even convert to a full-sized bed.
Meanwhile, if you're a fashionista mom, you may want to consider buying a round crib. Round cribs can be designed to give off a modern or traditional vibe, depending on how you embellish them. The downside: Round cribs take up more space, they may be harder to resell in the future and they are more expensive than a standard crib. Round cribs require special accessories – round mattress, round bedding, etc.  –  that usually cost more than standard crib furnishings.
Sleigh cribs are another option. This style of crib is more expensive than the others due to the unique design. They have solid headboards and footboards, so if you are interested in using a bumper, it may be hard for you to secure the crib bumper to it. (Keep in mind that crib bumpers are quite controversial in the medical community due to their suffocation risk.)