"Baby on Board" T-shirts are so old school. Today's message-carrying fashions are fun, creative and stylish!
Ultrasound T-shirt
We found this baby ultrasound T-shirt at cafepress.com. It's 100 percent cotton and comes in sizes small to 2XL (for an additional $3). The cute ultrasound picture is positioned over your belly. We like the form-fitting style that won't look boxy on your changing body! On the day we viewed it, it was on sale for $28 (regular $34.50).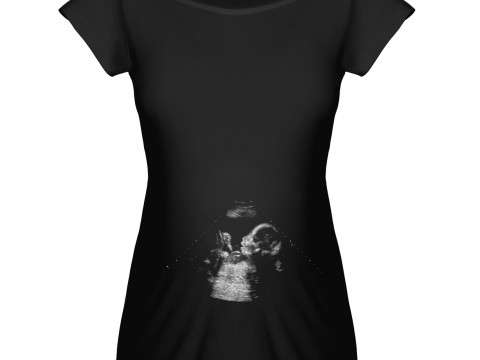 Show off Your Bump
The website 2chix.com carries a whole line of T-shirts with messages such as "Pregzilla" for grouchy mommies, "Pregnant is the new sexy" for confident mommies, "What's kickin'" for hip mommies and "My pod has two peas" for mommies of twins. Prices are $38.
Due in …
We saw this T-shirt on TV's "Shark Tank." Although the sharks didn't bite on this investment, we love the "Due in…" messages that eagerly anticipate the arrival date of your bundle of joy. Tanks, T-shirts and long-sleeve tees at samsonmartin.com range in price from $38 to $48.
Don't Forget Dad
Let your unborn's proud papa enjoy the moment, too, with T-shirts from zazzle.com that boast "My boys can swim" ($26.95), "Baby Daddy in Training" ($23.60) or "Dad To Be" with your baby's due date ($18.95).
Beaded, Bedazzled and Blinged!
This website was so much fun, we almost forgot we had a job to do. Customcouture.com lets you completely customize any T-shirt. Start with a plain white shirt and add your own images, clipart, text and""best of all""sparkles! Customcouture.com has several fonts, sizes and text effects, in addition to 34 bead styles that each comes in multiple colors and sizes (although they do not have special maternity sizes). Add a little flair to your message with custom bead art and adjust the size and placement of your message. What's really cool: The price of your custom design is updated each time you change your tee!