Female Babies and BPA Exposure
Female babies that are exposed to bisphenol A (BPA) while in their mother's womb may be more likely to have emotional and behavioral problems as young girls, a recent study found.
The study, led by researchers from Harvard School of Public Health, Cincinnati Children's Hospital and Medical Center and Simon Fraser University in Vancouver, included data from 244 mothers and their three-year-old children in the Cincinnati area. Throughout their pregnancies, the mothers gave urine samples which were tested for BPA, and children were tested each year between the ages of 1 and 3. The mothers also completed surveys about their child's behavior at age 3.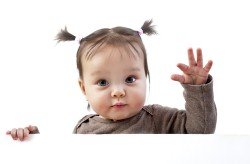 "None of the children had clinically abnormal behavior, but some children had more behavior problems than others," said lead author Joe Braun. This led to the examination of the relationship between BPA and behavior.
BPA – which is found in many consumer products including canned food linings, some plastics and more – was discovered in more than 85 percent of the urine samples of the mothers, and more than 96 percent of the children's.