The idea of putting on 25 pounds and then scheduling a photo shoot might sound terrifying, but when it's to document your pregnancy, the result can be tender and beautiful. Toss any self-conscious fears you have aside and take our six tips for prepping for your maternity photos!
1. Treasure the Moment
Whether it's your first child or your fifth, pregnancy is always a time to be treasured, which is why so many families wish to capture the memory with a professional photo shoot. You'll look back on this period and remember your excitement and hopefulness for the new arrival.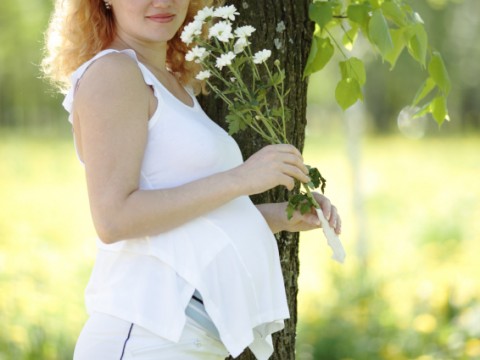 2. Be Beautiful
There is a reason pregnant women are said to have a "glow"! Embrace your expectant mom beauty and let it shine through your photos. The day of the shoot, go for a mani/pedi or a blowout to boost that confidence.
3. Seek Out Comfort
Pick a location that you will feel comfortable in. "If you are doing any less than fully clothed shots, you might want to shoot in a studio or at home," says Jane Zarzynski, owner of Jane Z Photography. "Sometimes, shooting at home can be the best place for maternity photos not only because you are going to feel comfortable in your own environment but because the photos will tell more of a story about who you are going to be as a family."
4. Show Off That Belly
You don't need to go bare for beautiful maternity photos but you also shouldn't fret about what to wear. When choosing your outfit, go for something that shows off your shape. "Stay away from crazy patterns and keep it simple," Zarzynski says. She suggests bold colors, cozy sweaters, long dresses and fitted tops as some great looks to consider.
5. Pick a Photographer
When you're shopping for a maternity photographer, remember that personality counts. This is someone you want to feel comfortable around because it's such a special moment. "Not every woman feels beautiful during pregnancy, so its important for the photographer to communicate what looks good for you!" Zarzynski says.
6. Ready, Set, Shoot!
Wondering when you should schedule? When you're about 28-32 weeks is a good time for your photo shoot; you'll be big enough to show off your curves but not to the point where you're uncomfortable.