Maternity Jean Fashion
One of the things I first panicked about when I found out I was pregnant was denim related, no joke. My fabulous and vast collection of jeans amassed over the years simply would not meet my upcoming pregnancy needs. Then the term "mom jeans" came to mind and took on a whole new, scary meaning. I was going to be a mom! Did my denim style have to change?!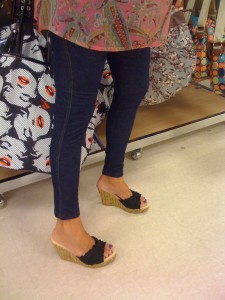 Well, desperation is the mother of invention right? I took to the streets AND the web in search of maternity denim. Thus, this short and sweet, yet ultimate guide to buying maternity jeans was born. Don't give up, there ARE jeans out there that you'll actually feel chic and sexy wearing as your baby bump grows.
The Designer Jean
Chances are, if you had a fave designer brand jean, a very similar pair exists in a maternity style (with that same three-figure price tag) by that very designer. Peruse high-end department store websites for selection, name brand jeans for pregnant chicks are somewhat difficult to find in your high-end brick and mortar retail stores, with the exception of the boutique retailer, A Pea in the Pod.
Basic Denim
Whether it's a pair of boot-cut jeans, straight-leg jeans or skinny jeans you're after, you'll find moderately priced maternity denim in the style of your choice at a handful of popular retailers, definitely on their websites, occasionally even in store. No fancy pockets, washes or stitching, just good-fitting denim that will accommodate the next nine and a half months of your pregnancy. Check out Gap, Old Navy, Forever 21 and Motherhood Maternity.