Great Baby Strollers for Fall
The weather is finally easing up on us and it's bearable to venture outside without the possibility of melting from the summer heat. Fall is here and it's time to take advantage of our great baby strollers for fall walks with the little ones.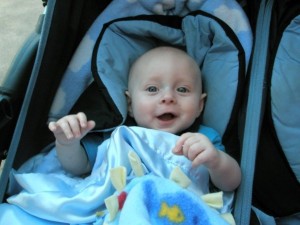 What Kind of Stroller is the Best?
But what kind of baby stroller is best? It really depends on what you're going to do with it and how you'll be toting your stroller around.
If fall walks with a baby stroller are what you have in mind, you'll definitely want to get one that maneuvers well and is easy to push if you are walking in an area with hills. There are a lot of really great 3-wheeled ones that are very popular right now. These are excellent for both neighborhood walks as well as rugged adventures if your fall walks might be better defined as "hikes." My friend Julie has a "BOB," what I consider to be the Land Rover of strollers. We took her 6-month-old Luke all over San Francisco a few weeks ago and it was a breeze. I wanted to ride, but sadly I was a bit too big (and Luke was pretty comfy anyway).
If you don't need quite as much maneuverability (or want to pay the price those fancy strollers cost) a good travel system is also a safe bet. This is what we use. It is basically an stroller that comes along with an infant carrier that fits onto it. When the baby outgrows the carrier, they move into the stroller. Travel systems are especially popular with first-time moms. Make sure you get one that is tall enough for both you and your partner to push (I know this from experience). There's nothing worse than a tall dad having to hunch over to push the stroller. Also, take note: travel systems are sometimes pretty bulky. Since ours takes up so much room in our trunk, we have to take it in and out for the times we use it.
Infant Seat Carriers