Vaccination during pregnancy is not typically the first topic that comes to mind when a woman is pregnant or trying to conceive. Depending on her age, where she lives in the world and whether she will travel over the 40 weeks of pregnancy, certain vaccinations might be concerns.
According to the March of Dimes certain vaccinations should be received before pregnancy, such as the HPV if the woman is under age 26. If a woman is at risk for hepatitis A, hepatitis B, meningococcal and pneumococcal, she should be vaccinated for these before pregnancy as well.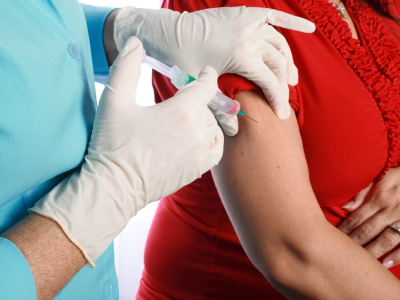 If you schedule a pre-conception appointment, your doctor can recommend which vaccinations you should receive before you become pregnant. The U.S. Department of Health and Human Services (DHHS) states that adult women should be up to date on all routine vaccinations before becoming pregnant.
Vaccinations are important because they help keep you safe from disease. Certain infections can harm the mom-to-be and her baby during pregnancy so it is best to receive them before becoming pregnant. Of course, not all pregnancies are planned, and some vaccinations are safe for mom and baby during gestation. Your best source of information is your physician; below is a basic guideline on when to vaccinate and when to wait.
During Pregnancy
When you become pregnant, your doctor might recommend a flu shot. If you are not up to date on your Tdap vaccine (tetanus, diphtheria, whooping cough), after 20 weeks of pregnancy, your doctor might recommend one. The CDC recommends Tdap to adults every 10 years. Women at high risk for anthrax, Japanese encephalitis, polio, vaccinia (smallpox) and yellow fever might be advised to receive vaccinations against these diseases because the risks posed by vaccination are lower than the complications if the disease is contracted during pregnancy.
Before and After Pregnancy
Pregnant women should not receive the BCG (tuberculosis), meningococcal, MMR (measles, mumps rubella), nasal spray flu shot LAIV, typhoid or the varicella vaccine within one month of trying to conceive.