When creating your baby registry, there are no rules on what you can and can't put on the list. But keep in mind that some of your friends won't be able to afford that $1,000-crib you've got your eye on.
"I would first focus on baby products you want and need," says Ramon Stevens, who helps with baby registries at Pottery Barn Kids. "Choose a few more expensive items that you need to save on costs, but also choose things that are lower in price."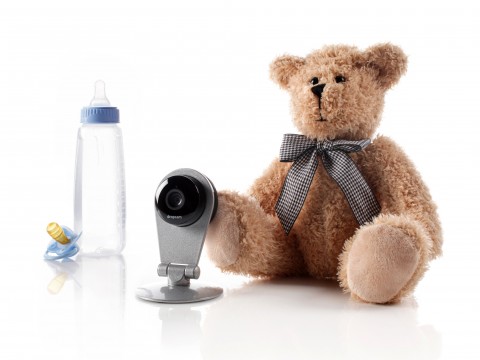 5 Must-Haves
Baby bottles "" Whether you're breastfeeding or bottle feeding, baby bottles are a must-have.
Boppy nursing pillow and slipcovers "" "Boppy nursing pillows are a must-have product. They're soft and offer great support for both nursing and bottle-feeding moms," Stevens says.
Baby monitors "" All baby registries should include a baby monitor. You can find simple audio baby monitors and fancier video monitors (such as Dropcam, pictured above). Some of today's video monitors have cool bells and whistles, like infrared night vision (so you can see your baby in the dark), data encryption, two-way communication (so you can talk to your baby through the monitor), and even some that monitor room temperature.
Infant car seat "" Another must-have item is a quality infant car seat. In fact, you won't be able to leave the hospital with your newborn without an approved car seat.
Diapers and related supplies "" Newborn babies go through lots of dirty diapers, and the cost of buying diapers can stack up. So, it's a good idea to register for diapers in various sizes. You should also add diaper wipes and diaper rash ointment to your baby registry.
5 Might Considers
Boppy newborn lounger "" Although you don't need a newborn lounger, they're handy to have, Stevens says. "This is a big support pillow that has a unique shape that cradles the baby. You don't have to worry about them rolling out, and it gives you a few minutes of hands-free time to yourself."
Breast pump and breast milk storage "" If you plan to nurse, you'll eventually want to get a breast pump and milk storage bags. Double electric pumps are great for working moms, but manual pumps are less expensive and will get the job done.
Bassinet "" In the first few months of your baby's life, you'll want him or her close by. Cribs are great places for your newborn baby to sleep, but they're not very portable. Bassinets are a wonderful, affordable option. (Some models are sold for under $99). Plus, they can be easily moved from room to room.
Nursery critter wraps "" Stevens recommends Pottery Barn Kids' critter wraps for bath time. These hooded towels are soft, plush and available in adorable animal designs. "It's a dry towel for baby after his bath. There's a green frog, a pink bunny, yellow giraffe, blue hippo . . . lots of fun critters," he says.
Baby bath tub "" While you don't need a baby bathtub, it does make bathing your baby easier, especially if he or she is too big for the sink. There are a variety of infant bathtubs available on the market, from collapsible ones (like the Puj tub) to baby "spa tubs" (which have fancy features, like water jets, shower units, and swirling waters).
5 Splurges
Diaper disposal pails "" If you're going to splurge, you can't go wrong with a diaper disposable pail, like the Diaper Genie Elite. It has a foot petal for easy disposal; the diapers never touch the pail, just the plastic bag; and it does a good job at killing odor. Refills can be expensive, however.
Changing table "" Though some parents may consider a changing table a must-have item, it is an expensive piece of nursery furniture that you won't need in a few years when your child is potty trained. "I think a changing table is a splurge. Instead, you can buy a changing pad and place it on a dresser," Stevens says. "The changing pads we carry at Pottery Barn Kids have a safety belt, and a non-skid bottom."
Wipes warmer "" You don't need a wipe warmer, but it's a nifty gadget to have.
Baby food maker "" If you plan to make your own baby food, you might want to splurge and put a baby food maker on your list. Check out Pottery Barn Kids' Beaba Babycook Baby Food Maker, a BPA-free appliance sells for $119.95 and steams veggies, purees and blends food, and even reheats and defrosts baby food.
Shopping cart covers "" Another splurge that might come in handy are shopping cart covers. Many of these have beautiful, kid-friendly designs, and they'll protect your kids from germs on public shopping carts.